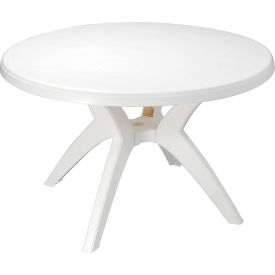 Outdoor Resin & Melamine Tables
Outdoor Resin And Melamine Tables Are Used For Porch, Patio, Poolside And Outdoor Restaurant Or Cafe Seating Applications.

Outdoor Resin And Melamine Tables are made of weather-resistant resin and melamine for long lasting durability and dependability. Variety of weather-resistant outdoor furniture styles, shapes and sizes available to meet requirements and setting decor. Outdoor table designs withstand extreme weather conditions. Some tabletops include umbrella openings. Umbrellas and bases sold separately. Variety of outdoor table types are available to meet particular outdoor need or application. Color finishes are Black, Bordeaux, Boulder, Bronze, Brown, Burgundy/Teak, Catalan, Charcoal, Chestnut, Desert, Espresso, Gray, Green, Green/Teak, mesa, Natural, Onyx Marble, Sand, Sandstone, Teak, Tobacco, Tokyo Stone and White. Dimensions and warranties vary per type. Package quantity is 1.