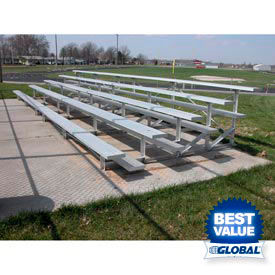 Standard Aluminum Bleachers
Non-Elevated Lightweight, Corrosion Resistant Aluminum Bleachers Provide An Economical, Maintenance Free Seating Solution For Indoor Or Outdoor Sporting Events.

Standard non-elevated aluminum bleachers provide an affordable system for all your basic bleacher needs. All "Standard" bleachers include 2"x10" anodized seat plank, single (1) 2"x10" mill finish foot planks on rows 2-3 and double (2) 2"x10" foot planks and riser plank on rows 4 and above. Guardrails are included on all systems with 5 rows of seating or more. Our 3 row bleachers top seat height is under 30" so guardrail and riser are not required to meet building and safety codes. 4 Row Bleachers include single floor planks with 5-1/2" rise. 3 & 5 Row Bleachers include single floor planks with roomier 7-1/4" rise.