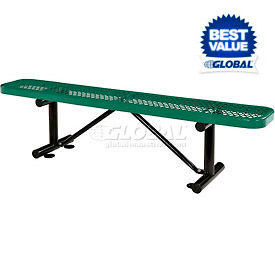 Steel Flat Benches - Expanded Metal or Perforated
Steel Flat Benches Provide Compact Seating For Locker Rooms, Parks, Bus Stops And Other Indoor Or Outdoor Locations.

Backless Steel Flat Benches are made of heavy-gauge metal with a thermoplastic coating for long lasting durability. Protective coating creates a smooth, high-gloss surface that stays cool to the touch even in the sun. Thermoplastic coating resists fading, mold and vandalism, providing maintenance-free care through years of high-traffic usage. Perforated and expanded metal styles available in portable or surface mount. Bench styles are Decorative, Expanded Metal, Perforated, Slat, Strap, and Wave. Bench colors are Black, Blue, Bronze, Brown, Gray, Green, and Red. Lengths range from 48 to 96 inches. Other dimensions vary per model.