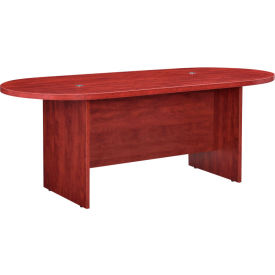 Racetrack Conference Tables
Global™ Boardroom Tables Are Used For Conference Rooms, Meeting Rooms And Other Office Settings.

Global™ Boardroom Tables are made of solid high density particle board construction covered on both sides with high performance thermally fused laminate or wood veneer for long lasting durability and dependability. Wide selection of various type base Round, Square or Rectangular shaped tables are available to meet particular office need or requirement. Choose from 24, 42, 48, 71, 72, 96, 120, 144, 168 and 169 inch lengths, 24, 36, 42 and 48 inch widths, 16, 20, 29 and 29-1/2 inch heights and American Cherry, American Dark Cherry, American Mahogany, Avant Honey, Cordovan, Dark Espresso, Mahogany, Quartered Mahogany and Toffee color finishes.