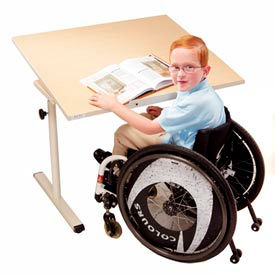 Knob Adjusted Wheelchair Accessible Tables
Knob Adjusted Wheelchair Accessible Tables Help Comply With ADA Requirements At The Lowest Cost.

Compact height adjustable tables provide wheelchair access for ADA compliance. Used for when frequent height adjustments are needed. Powder coated steel frame and metal legs allow height adjustments from 22-33"H at 1" increments using a hand screw knob. Made with a durable laminate work surface and advanced hydraulics. Tilting Tables can be tilted from 0 to 50° offering various positions for maximum flexibility. Front edge features a 1/2" lip to retain papers and writing utensils. Wheelchair-Accessible Desks include a recessed comfort curve and 7"W x 14"D x 14"H book storage compartment. ADA compliant. 2 Year Limited Warranty.