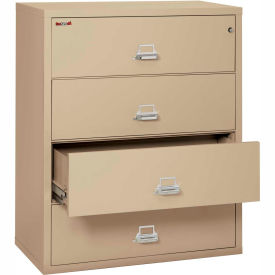 FireKing® - Fireproof Lateral Files
Lateral fireproof file cabinets ensure the safety of your vital documents. These fire proof file cabinets meet UL impact requirements.

Lateral cabinets remain locked and intact without damage to paper contents after enduring 1500°F, a drop from 30'H and heating to 1500°F again. Fireproof lateral file cabinets meet the UL 2000°F Explosion Hazard rating and the Class 350 One Hour Fire rating; protects paper contents without damage for 1 hour when subjected to 1700°F. File cabinets are insulated with 100% gypsum reinforced by a 1" x 2" lattice of 14 gauge steel wire welded with aluminum. The construction maintains each drawer as a separate, insulated compartment for maximum protection. Fire proof file cabinets protect contents from sprinklers and fire hoses.

The high security key lock's drill-proof and pick-resistant features surpass UL standards by 50%. Chip and scratch resistant powder coated finish. Lifetime Limited Warranty. Free Product Replacement if files are ever damaged by fire.
Interior dimensions: 16-3/4"D x 10-1/4"H I.D.
37-1/4"W File Cabinets measure 31-3/4"W I.D.
44-1/4"W File Cabinets measure 38-3/4"W I.D.