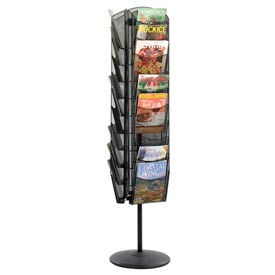 Wire & Mesh Literature Display Racks
Safco® Onyx™ Mesh Literature Display Racks Are Used For Newsstands, Waiting Rooms, Offices And More.

Safco® Onyx™ Mesh Literature Display Racks are made of durable steel construction for long lasting strength and dependability. Steel mesh design allows for easy visibility of contents and easy matching with any d??cor. Wall Mount Magazine Racks are available in 5 and 10 Pocket styles and include all hardware needed for wall mounting. Floor Rack has 3 pockets for attractive uncluttered display of magazines or other reading material. Rotating Magazine Rack is freestanding and rotates 360° for total access to all displayed magazines. Three-side unit has 30 magazine pockets with 1 inch capacity each. Pamphlet Display sits on tabletop or countertop and has 4 pockets stacked vertically for easy visibility. Single Magazine Display is for countertop use and includes removable dividers, allowing display stand to also be used as a pamphlet display. Business Card Display comes with 8 pockets for ample room to keep a variety of business cards visible and easily accessible.