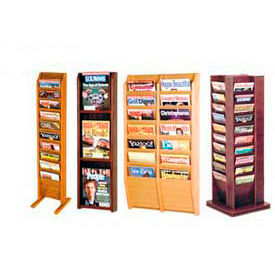 Oak Literature Organizers
Oak Literature Organizers Provide a Stylish Method to Display Magazines, Brochures, and more.

Oak literature organizers contain and display booklets within solid oak frames and laminated panels. Neatly displays and organizes printed materials while complimenting any surrounding furniture. Extra quantities are available. Width range is 5-1/4"-40". Dimensions and number of openings vary per style. Quantity is 1. Styles, pocket number, and additional specifications vary per model.