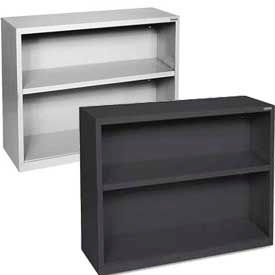 Steel - Desk Height, Assembled Bookcases
Steel - Desk Height, Assembled Bookcases Provide Book and Document Storage For Residential, Commercial, and Corporate Settings.
Steel - desk height, assembled bookcases offer convenient storage access while serving as room dividers, credenzas, and more. Welded construction improves unit strength with a clean professional look for an upscale aesthetic appearance. Adjustable shelves allow storage for various sized items. Open face shelves provide easy access and content versatility. Durable steel construction provides lasting strength and dependability. Powder coat finish prevents rust and oxidation. Available color finishes vary per model.
Welded construction
Adjustable shelves
Steel construction
Powder coat finish
Available openings are 2 and 3
Adjustable shelves are 1 and 2