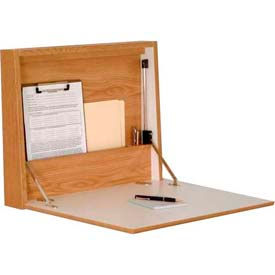 Wooden Mallet - Fold-Away Wall Desk
Folding Wall Desks Provides A Quick Work Surface When You Need It!

Easily fold away desk to provide more work space. The laminated wood grain wall desk is available in Oak or Dark Red Mahogany with a white and wood grain laminate interior. The beautiful and durable contoured wrap-around laminate covers all surfaces for easy cleaning. Braking slides have been inserted for a soft opening and gives support while not letting the front panel slam down. Magnetic catch ensures that the desk will stay closed, even when accidentally bumped. Wall desks are made with 5/8 thick front panel and sides. 21 x 17 writing surface extends to 20-1/4 from the wall when open. Each desk is outfitted with a useful pocket and pen holder inside. Shallow closed depth means that these desks are ADA compliant when placed in passage ways. These racks can be mounted at chair or standing height. Heavy duty mounting hardware included. Measures 21 W x 4 D x 17 H.