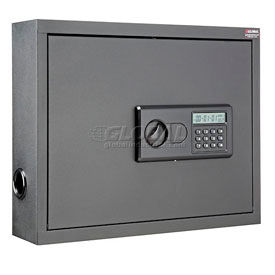 Wall Mount Laptop Security Cabinet
This Steel Security Cabinet Stores Away Laptop Computers when not in use to Prevent Theft and Allows Stand-Up Workstation Use.

Security storage cabinet features an electric keypad lock that eliminates need for keys. Electronic coded lock uses a reprogrammable administrative and user password and features an emergency back-up with security key. Laptop storage cabinet's interior measures 3"D when closed. Platform measures 16-1/2"W x 12-1/4"D and is cushioned to protect laptops. Platform straps keep laptop securely in place when closed. Electronic lock cabinet includes a 1-1/2" diameter cable management opening. Gray power coated finish. Laptop cabinet measures 19-3/4"W x 4-3/4"D x 15-3/4"H.