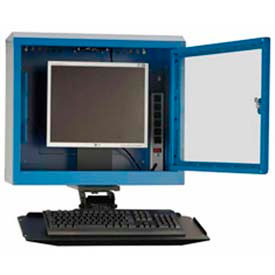 Wall-Mount Computer Cabinets
Wall-Mount Computer Cabinets Store and Secure Computers and LCD Screens In One Place.

Wall-Mount Computer Cabinets are made with polycarbonate surface for lasting durability. Surface is demagnetized to avoid image distortion and protect screens. Cabinets have fan with filtration screen to provide positive pressure inside the cabinet, (1) LCD Monitor Support, and (1) Polycarbonate Door. Keyboard tray can be tucked under the cabinet when not in use. Cabinet is height adjustable for different users. Monitor holder can store a computer and LCD screen in the same space. Power outlet strip included. Unit measures 24"W x 14"D x 21"H. Color finish is Blue.