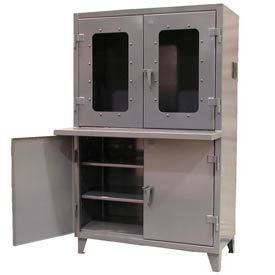 Strong Hold Products - Computer Cabinets
Strong Hold Computer Cabinets Are Used For Warehouses, Garages, Laboratories And More.

Strong Hold Computers are made with an all-welded 12 gauge steel body for lasting durability and reliable protection for valuable computer parts. Available in mobile or stationary models with up to 4 shelves to securely hold monitors, computer towers, keyboards and more. Computer cabinets are dark gray and are available in a variety of sizes and configurations. Fully assembled. 1-Year Limited Warranty.