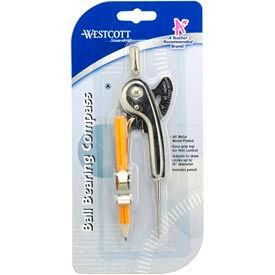 Compasses & Protractors
Compasses And Protractors Are Used For Personal, School Or Professional Use And Applications.

Compasses And Protractors are made for long lasting durability and dependability. Koh-I-Noor® 8-Piece Geometry Set includes a compass, 6 inch ruler, 180° protractor, 45° triangle, 60° triangle, automatic pencil, eraser and spare leads in a solid plastic storage case. Westcott® Ball Bearing Compass has nickel plated, easy grip top, adjusts to draw circles up to 13 inches in diameter and includes pencil. Westcott® Soft Touch School Compass And Protractor are infused with Microban protection to inhibit the growth of bacterial odors. Compass has a retractable point for safety and easy grip top. Protractor has nonskid design with rotating arm for accurate measurement in 1/2° graduations.