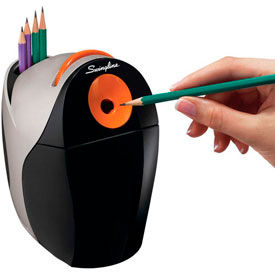 Electric Pencil Sharpeners
Electric Pencil Sharpeners Are Purposed For Schools, Offices To Sharpen Pencils Quickly.

Electric Pencil Sharpeners offer convenient stations for pencil sharpening. Large shaving cup allows for continuous sharpening. Shut off feature prevents over-sharpening. Styles are iPoint Ball Battery Pencil Sharpener, Electric Pencil Sharpener, Quick Action Battery Pencil Sharpener, Desktop Electric Pencil Sharpener, Quiet Sharp 6-Hole Classroom Pencil Sharpener, QuietSharp Glow Commercial Electric Pencil Sharpener and more. Colors are Assorted, Black, Black/White, Black/Gray, Black/Orange, Black/Silver, Blue Silver, Graphite/Green, Gray, Red/Black and Silver/Black. Package quantities very per model.