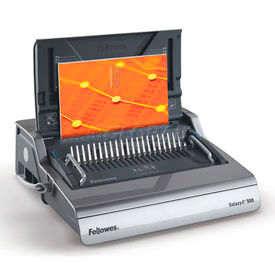 Electric Binding Machines
Binding Machines Are Used For The Binding Needs Of Small To Large Offices.

Binding machines help create manuals, presentations, catalogs and more. Easily bind multiple sheets of paper to create an attractive presentation. Plastic Comb Binding Machines bind up to 500 sheets with a 2" comb. Punches approx. 20 to 25 sheets at a time with minimal effort. Loads paper vertically for accurate punch alignment. Includes comb storage tray, document measurement tool and binding starter pack. Thermal Binding Machine is used for medium duty thermal binding projects or desktop use. Binds up to 300 sheets. Features 1-3 minute thermal binding cycle with 4 minute heat-up time. HeatShield safety barrier prevents accidental contact with heating plate. Auto-shutoff prevents overheating. Folds flat for storage. 2-Year Limited Warranty.