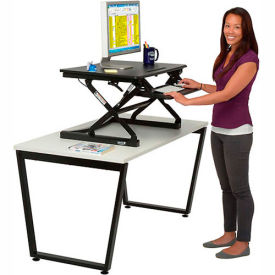 Sit-Stand Desk Converters
Sit-Stand Desk Converters Are Designed For Office Spaces and Cubicles In Need of Ergonomic Workstations.
Sit-Stand desk converters provide ergonomic alternative to all day sitting. Standing work tends to burn more daily calories and increase mental focus. Studies in office ergonomics show productivity increases of 12%–18% following an ergonomic intervention where employees are provided with well-designed ergonomic furniture. Comfortable computing can offer provable ROI for healthcare costs associated with unhealthy computing and missed work time.
Maximum loading capacities range from 20 lbs - 44 lbs
High-quality steel base have a smooth workstation top
Space-saving design does not protrude beyond tabletop
Ergonomic design is better for employee health and productivity
Electric or manual sit-stand models available
Ergonomic back-tilt keyboard tray keeps your wrists in a neutral position
Available tabletop colors are black, mahogany, tan, white, and white/black
Soft wrist rest on some models provides a comfortable place to rest your wrists and act as a great deterrent of carpal tunnel syndrome onset
Compact design works with current workstation set ups
Quick release keyboard tray makes it easy to clear workspace for reading or writing