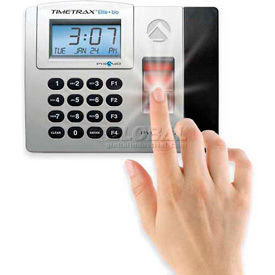 Biometric Time & Attendance Clocks
Biometric Time Clocks And Attendance Systems Provide Offices, Schools, Businesses And More With Electronic Attendance Monitoring And Recording.

Biometric time clocks and attendance systems provide large business technology on a small business budget. Capture employee times in and out, streamlining business processes and reducing expenses associated with manual calculations. Systems are wall mounted for convenience and ease of use. Time and attendance software has exporting capability to major payroll systems including, ADP, PAYCHEX, QuickBooks, and more. System operates for weekly, bi-weekly, semi-monthly or monthly payroll. Unlimited overtime rule configurations including time-and-a-half, double-time, special Saturday, Sunday or 7th day overtime work rules. Features eliminate 'buddy punching" and the need for time cards. Battery backup memory. Easy to read display and keypad allows manual entry as needed. Styles available are TimeTrax Elite Time And Attendance System, Amano Time Guardian® Automated Time Clock Fingerprint System and Amano Time Guardian® Automated Time Clock Hand Punch System. Capacities are 50, 100 and 512 Employees. Kits Include Biometric Terminal, TimeTrax Software, Power Supply, Cables and Quick Start Guide.