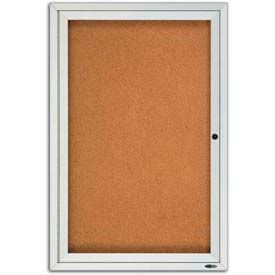 1 Door Non-Illuminated Enclosed Boards
1 Door Non-Illluminated Enclosed Boards Protect Outdoor Board Messaging.

1 Door Non-Illuminated Enclosed Boards display messages outdoors with enclosed corkboards. Boards are made using satin anodized aluminum frame with shatter resistant acrylic windows. Doors have cylinder locks with 2 keys and full length piano hinges to protect messages. Resilient, self-healing natural cork or vinyl tacking surface provides long-term use. Message boards feature weather resistant aluminum backing with silicone sealant to resist outdoor environments and weathering. Material surface are Cork, Rubber, or Vinyl. Other specifications vary per model.