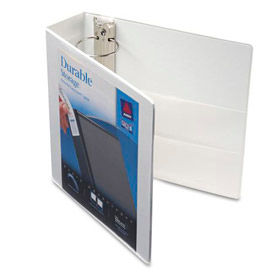 View Round Ring Binder
View Round Ring Binder Stores and Organizes Paperwork and Documentation for Office Environments, Classrooms, Libraries, and more.

These binders are made of durable polymer material for long lasting dependability. Feature crystal clear overlays that allow placement of inserts on front cover, back cover and spine for custom identification and organizational purposes. Choose from various types to meet particular need or budget requirements, including Vinyl View Binder, Showcase Reference Binder, Heavy Duty View Binder, Reference View Binder, See-Thru Presentation Binder and Flex-View Presentation Binder. Available in 1/2, 1, 1-1/2, 2 and 3 inch ring sizes and Black, Blue, Gray, Navy Blue, Red and White colors.