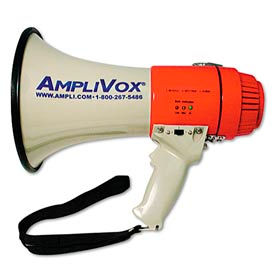 Bull Horns & Megaphones
Bull Horns and Megaphones Amplify Audio For Signaling and Public Addresses At Construction Sites, School Events, Sports Games and Other Demonstration Venues.

Bull Horns and Megaphones are loud enough to be heard over machinery and other noise to provide announcements in any environment. Horns are made with durable plastic for long lasting use. Safety Horn is guaranteed to be heard up to a mile. Mini-Meg Megaphone covers up to 100 yards and groups of up to 50 people. Safety Strobe Megaphone includes emergency flashing strobe light. Available speaker types include Dynamic Megaphone With or Without Detachable Cord, Mighty Sonic Safety Horn, Horn Refill Can, Mini-Meg Megaphone, and Safety Strobe Megaphone. Color finishes are Gray, White, and White/Red. Dimensions vary per model.