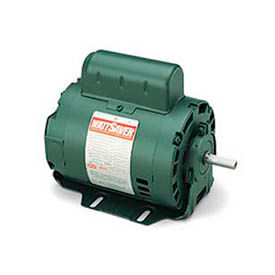 Marathon 1-Ph Motors, ODP
Marathon 1-Ph Motors, ODP Offer Energy Efficiency and Long Life For A Variety Of Industrial and Commercial Uses.

Marathon 1-Ph Motors, ODP are constructed with rolled steel for lasting durability. Resilient base has isolation or resilient rings between motor mounting hubs and base to absorb vibration and noise. Drip proof (DP) enclosure has vents in end shield and/or frame to prevent drops of liquid from falling into motor within 15 degree angle from vertical. Most models are designed for use in areas that are reasonably dry, clean, and well ventilated (usually indoors). If installed outdoors, it is recommended that motor be protected with cover that does not restrict flow of air to motor. UL Listed and CSA compliant. Extra quantities are available. Available in a variety of HP, voltages and RPM's. Frames are 48, 56, and more. Quantity is 1. Additional specifications vary per model.