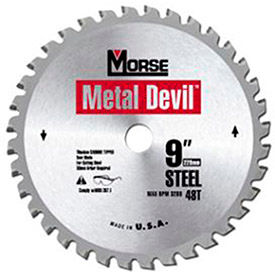 M.K. Morse Circular Saw Blades
Metal Devil® metal cutting circular saw blades are designed with different configurations for steel, stainless, aluminum, thin steel, and even steel studs. Important differences between blade configuration allow for specialty applications - number of teeth on the blade, carbide grade and the shape of the teeth.

Metal Devil® NXT blades combine strength, long life, and technology in one complete package. Manufacturing processes combine plate technology and carbide science to result in premium cutting performance in the most demanding of metal cutting applications.

Metal Devil® CL blades deliver the most cuts per charge in the market - so you can get the job done instead of wasting time and money waiting for batteries to charge. Consistent finish, consistent life, and consistent performance from each and every Metal Devil CL blade.