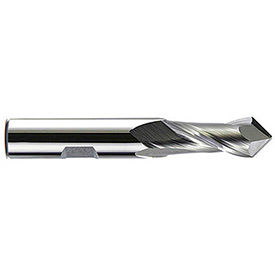 Multiple Flute Carbide Fine Tooth Roughing Single End Mills
Multiple Flute Carbide Fine Tooth Roughing Single End Mills Accommodate Roughing End Mill Cutting For Milling, Contouring, and more.

Multiple flute carbide fine tooth roughing single end mills cut and remove large quantities of metal at a faster rate. Compact design allows convenient handling and functionality for hard to reach areas. Select models feature metric unit measurements. Solid carbide material provides lasting strength and durability. Flute count and dimensions vary per model.

AlTiN (Aluminum Titanium Nitride) coating is ideal for high temperature cutting operation in many materials such as titanium and nickel alloys, Co-Cr-Mo, stainless steel, alloy steels and cast iron. When exposed to higher temperatures, it forms a hard aluminum oxide layer and, as temperatures increase, the coating insulates the tool and transfers heat into the chips. It is an extremely tough coating that will hold up in heavy and interrupted cuts. AlTiN contains a higher aluminum content than the similar TiAlN coating which makes it much harder and smoother than TiAlN. AlTiN is ideal for smaller depths of cut and excels in high speed and dry machining applications and when machining hardened steel.