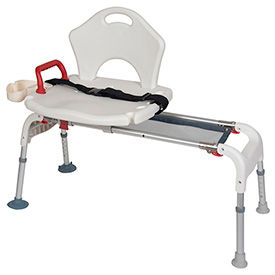 Bath Benches & Stools
Bath Benches And Stools Provide A Safe And Convenient Seat For Use In Restrooms, Bathtubs And Showers.

Bath Benches And Stools are made from plastic, aluminum and other corrosive-resistant high quality materials for long lasting durability and dependability. Variety of bench and stool designs offer added stability to baths, showers and other restroom applications. Types are Bath Bench, Shower Bench and Transfer Bench. Colors are Blue, Gray, Teak, Teal, White, White/Blue and Yellow. Dimensions and weight capacities vary per type. Quantity is 1.