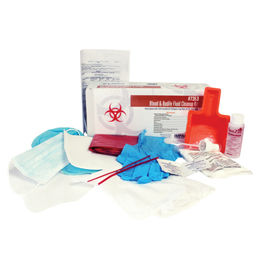 Bloodborne Pathogen Clean-Up Kit
Bloodborne Pathogen Clean-Up Kits Are Designed For Safe and Sanitary Removal of Blood, Vomit, Fecal Matter and Other Rancid Substances.

Pathogen Clean-Up Kits feature essential tools and equipment within a compact, heavy duty plastic casing, which provides added protection to stored contents. Safety latch on cases provides secure accessibility. Kits available with items including disposable gloves, face shields, face masks, shoe covers, aprons, absorbent packs, disposable towelettes, biohazard bags with ties, disposable towels, and more. Some models can be wall-mounted for increased versatility. Available kits are Basic Bloodborne Pathogen Clean-Up, Bodily Fluid Cleanup Kit, Core Pro Bleeding Control Kit, Fluid Clean-Up Kit Vehicle/Facility BBP Kits, and more. Total kit pieces vary per model. Case materials are heavy cardboard box, plastic, polybag or synthetic fabric bag. OSHA listed. Additional specifications vary per model.