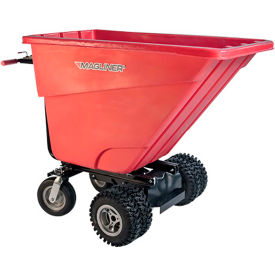 Motorized Plastic Hopper Trucks
Move heavy and bulky loads safely and easily with the Hopper Truck from Magline! This powered Hopper Truck is perfect for moving for collecting, transporting, and dumping bulky materials from inside or outside your facility.
The propulsion system includes an automatic park brake that engages when the throttle is released, and the motor's regenerative brake will slow the load in either direction, even on hills and ramps. The battery-operated propulsion system requires no gas or oil, and is perfect for indoor and outdoor use. The variable speed throttle controls movement up to 3 mph in both forward and reverse.
The open differential transaxle and rear 10" casters provide maximum maneuverability in both powered and free-wheel modes. The polyethylene tub won't dent, crack or corrode. Contents can be dumped by pushing up on the handle bars, or hinged tub can be lifted manually.