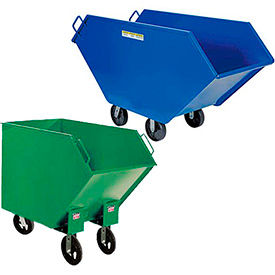 Tapered End Steel Waste & Chip Trucks
Single and Dual Tapered Ended Steel Tilt Trucks. These Trucks Are Also Known As Waste And Chip Trucks.

Tapered ends allow tilt truck to adapt to virtually any material handling situation, and provide for safe and easy loading and unloading. The tapered ends can fit under Tapered trucks are made of 14-gauge steel with leak-proof, solid-welded seams. Hemmed lip around top edge of truck allows for reinforcement with bulky loads.