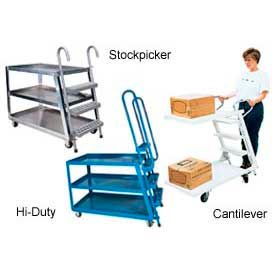 Stock Picker & Step Ladder Carts
Stock Picker/Step Ladder Carts Combine The Mobility Of A Cart With The Versatility Of A Step Ladder For Simplified Material Handling.

Stock Picker/Step Ladder Carts are made with all welded steel and aluminum construction for long lasting strength, durability and dependability. Designed to minimize risk of injuries that can occur when attempting to stock or unstock shelves from a ladder while pushing a cart. Convenient spring loaded step ladder holds the cart securely in place while a person is standing on the ladder. Crutch tip ladder prevents the cart from moving while stocking. Springs then return the ladder to the raised position once personnel exit the step. Available cart types are Aluminum Stockpicker, Steel Cantilever, Steel Hi-Duty, Steel Hi-Frame, and Steel Stockpicker. Load capacities are 440, 660, and 1000 lbs. Dimensions vary per model.