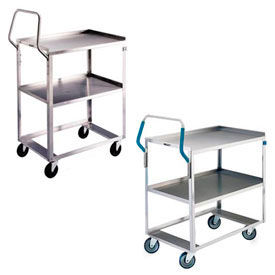 Stainless Steel Ergonomic Handle Shelf Carts
Welded Stainless Steel Ergonomic Handle Utility and Stock Carts

These Stainless Steel Welded Utility and Stock Carts make maneuvering in confined spaces easy. Ergonomic vertical handles offer more control when pushing heavy loads.

Ergonomic designs helps to prevent repetitive motion injuries. Stainless steel carts are rust and stain resistant feature reinforced shelves and a hemmed front. Top and middle shelf feature raised retaining lips on 3 sides. Easy-to-clean. Moves easily on swivel casters. 2, 3, and 4 shelf options available. Weight capacities range from 300 to 1,000lbs. 3-1/2", 4" and 5" casters available. Dimensions and shelf types may vary, lip up and lip down options available. Shelves are mounted at user-friendly heights.