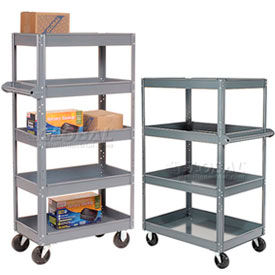 Heavy Duty KD Steel Shelf Storage Trucks
KD Steel Shelf Storage Trucks - Ready To Assemble Transport And Deliver Various Sized Components To Assembly Lines, Workstations Or Other Industrial Environments.
Steel Shelf Storage Trucks - Ready To Assemble are made of steel for long lasting durability and dependability. Variety of types and sizes available to meet job requirements. One-piece tray construction design helps prevent cargo from falling during transport operations. Convenient push handle allows for hand comfort. 2 swivel, 2 rigid wheels provide easy mobility. Ships unassembled.
Available in a variety of styles, sizes and popular brands
. Shelf quantities are
4 and 5
. Color finishes are
Gray, Textured Dove Gray or Textured Regal Blue
. Wheel diameter is
5 in.
. Wheel types are
Polypropylene, Polyurethane and Rubber
.
Assembly required
Choose from Lip-Up, Lip Down, or Reversible shelves
Tubular steel handle for controlled cart movement
Open access on all sides
Weight capacities from 275 to 1,000 lbs.