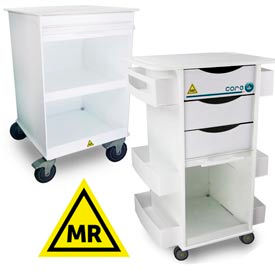 TrippNT™ MRI Lab Carts
MRI Lab Carts Are Used For Hospitals, Medical Centers, And Other Healthcare Faciltiies.

The MRI Lab Cart is made of non-reactive high density polyethylene and ABS for long lasting durability. Safe, non-ferrous carts sort, store, organize, lock and transport supplies. 3 full extension drawers, shelves and bulk storage features. Document and tool holder snaps on back. Four non-marking rubber casters provide easy maneuverability. The small footprint Core DX provides easy storage. Built in handle has three full extension drawers, six side compartments and two with dispensing slots. Includes large bulk storage area with locking sliding, clear, PETG door secures items. Available with shelf quantities 4 (Side Mounted), 1 (Interior), 1 (Interior), 6 (Side Mounted), 1 (Interior), and 2 (Interior). Dimensions vary.