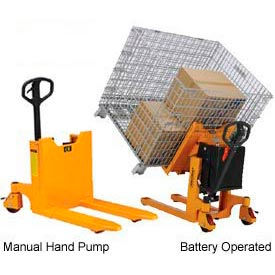 Portable Container, Pallet & Skid Tilters
Portable Container, Pallet & Skid Tilters Increase Productivity and help Reduce Back Injuries associated with Reaching and Lifting Heavy Items from Containers.

Portable Container, Pallet & Skid Tilters are infinitely adjustable with a tilt angle between 0 and 90 degrees, and the short operator reach allows easy access to containers or skids. Durable powder coat finish. 3-1/2" lowered height, 22-1/2"W x 32"L forks and 6-1/2" fork width. The Skid and Pallet Tilt Trucks feature 6" polyurethane steer wheels with brakes and 3" load wheels. 1 Year Limited Warranty.

Hand Operated Tilter has a dual position pump allowing separate control of 11" lift and 90 degree tilt. The Pallet Truck style handle offers easy lifting and steering.

Battery Powered Tilter includes 12V battery, 8 amp charger, and remote hand control with a 4' coil cord. The ergonomic push handle allows easy steering. Features safety battery disconnect and the emergency-stop on the cylinder prevents collapse in the event of hydraulic pressure loss.

Note: For use with Single-Faced Pallets, Skids and Bulk Containers. Not for use with Pallets with understructure.