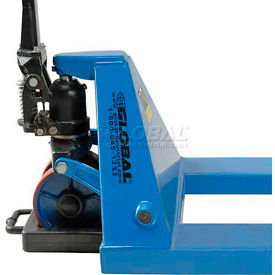 Pallet Jack Truck Chocks
Pallet Jack Truck Chocks Reduce Freight and Trailer Damage due to Runaway Pallet Jacks.

Pallet Truck Jack Chocks are made of heavy duty one-piece molded rubber construction for long lasting durability and dependability. Designed to prevent damage to cargo from unsecured pallet jacks in trucks and semi-trailers. Roll the skid truck steering wheels into the stop and it remains in place without tying down or flipping the pallet jack truck on its side. Ramp entry on one side, easy lifting handle on the other side. Other specifications vary per model.