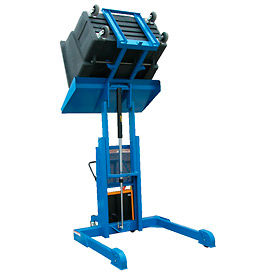 Multi-Purpose Tote Dumper Lift Trucks
Multi-Purpose Tote Dumper Lift Trucks Collect, Transport and Dump Materials while Saving Time and Reducing Work Related Injuries.

Multi-Purpose Tote Dumper Lift Trucks are used for hospitals, schools, commercial and industrial applications, and allow one person to easily and safely empty loads up to 600 lbs. Simply roll the Tote into the Dumper, secure the Tote into place, and lift and dump contents with the push of a button. Rotates Totes over 135° to dump contents and offers a dump time of 25 seconds. Features 1-1/2HP, 12V industrial motor, 85Ah battery and a 24V hand pendant control on 8'L coil cord. Moves easily on two 8" x 2" rigid phenolic wheels on the front, two 8" x 3" swivel phenolic casters on the rear and includes a floor lock for stationary positioning.

Each Tote Dumper includes (1) 1/2 Cubic Yard Polyethylene Tote. Totes roll easily with (4) swivel 6" x 2" mold-on rubber casters and are rated for 200 lb. capacity.

Order additional Totes as required.