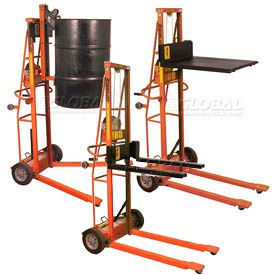 Wesco® Triple Truck Lift Truck
Wesco® Triple Truck Lift Truck is a Unique Lift Truck that Accepts Three Attachments and Features Adjustable Angle Outriggers!

Wesco® Triple Truck Lift Truck offers three separate types of attachments for ultimate flexibility, and no tools are required to install or remove these attachments:

Drum Lifter Wesco's® patented Gator-Grip lifts drums from the top of the drum for greater safety. There is no need for the operator to touch the drum while raising, transporting or lowering it. The Gator-Grip works with most standard rim 30, 55 and 85 gallon steel, fiber and poly drums.

Adjustable Width Forks 26-¾"L x 3"W forks adjust from 6" to 19-½"W, suitable for small pallets and skids.

Slip-On Platform 21-¼"W x 28-1/8"D steel platform is installed over the forks (sold separately) to allow cartons or irregularly shaped objects to be transported.

Lift Truck features adjustable angle outriggers that can be placed into Three Positions using a simple lever (no tools required). Outrigger positions are: Straight Out (11-½" between the 3-¾" legs), at 41° (39" max. between the legs) to allow drums to be lifted, and at 75° (59" max. between the legs) to allow the truck to straddle a pallet or skid. Outrigger angle can be changed when fully loaded.

Reliable, high-gear ratio hand operated winch permits easy lifting with minimal effort. Spring-loaded quick-connect winch handle may be reversed for storage. Convenient foot-operated wheel lock ensures the truck remains stationary for safety. Rolls easily on 10" solid rubber rear load wheels and 2" swivel front steer casters. Mid-frame rollers allow the truck to be loaded onto its back for van or truck transporting. Durable steel construction. 1 Year Limited Warranty.