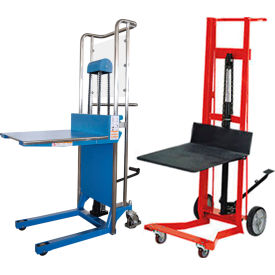 Foot Pedal Operated Lift Trucks
Foot Pedal Operated Lift Trucks Allow Ergonomic Material Handling For Easy Loading in Factories, Warehouses, and Other Related Applications.

Lift trucks are solidly manufactured for long lasting durability and dependability. Foot Powered Hydraulic Lifts offer effortless lifting and variable controlled lowering. Sturdy push handles and rugged wheels or rollers provide easy mobility and maneuverability. Available in Adjustable Fork, Forks and Platform Style. Load capacities range from 300 to 1322 lbs. Raised lift heights range from 35-2/5 to 80 inches. Lowered lift heights range from 0 to 6-1/4 inches. Dimensions vary per model.