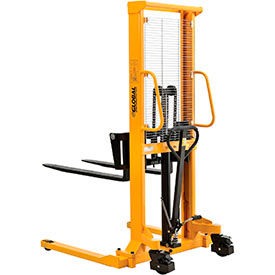 Hand Pump Operated Lift Trucks
Hand Pump Operated Lift Trucks Allow Ergonomic Handling and Lifting of Lighter Loads in Small Warehouses and Light Industrial Environments.

Lift trucks are an economical and durable option to powered lift trucks providing a simple, easy way to lift, lower and transport materials with minimum effort. Welded all-steel frame and powder coat finish provides long lasting use and protection. The hand operated hydraulic pump handle is similar to a pallet truck handle, offering easy lifting action and convenient steering in congested areas. Available truck types are Adjustable Straddle Legs and Fixed Straddle Legs. Load capacity is 2200 lbs.

Note: Fixed Straddle Legs style are for use with Single Faced Pallets, Skids and Bulk Containers only.