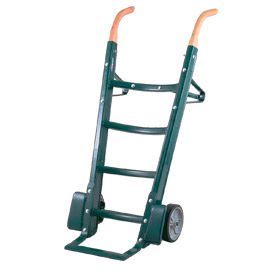 Wooden Handle Hand Trucks
Wooden Handle Hand Trucks are used for Applications including Commercial, Industrial, Distribution, and more.

Wooden Handle Hand Trucks are made of high quality materials for long lasting durability and dependability. Trucks allow ergonomic heavy duty content mobility and transport. Slant back design provides convenient load break-over. Curved frame cross-members accommodate cylindrical objects. Integral steel wheel guards provide load protection. Features high-capacity mold-on rubber casters for convenient maneuverability. Type is Mold-On Rubber. Weight capacities range from 600 to 1000 lbs. Dimensions vary per model.