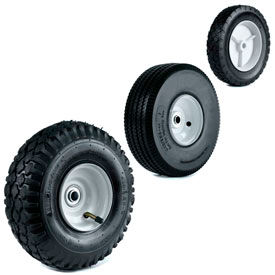 Martin Wheel Universal Hand Truck Wheels
Martin Wheel Universal Hand Truck Wheels Allow Convenient Hand Truck Mobility and Transport for Warehouses, Retail Stores, Delivery Drivers, and more.

These Hand Truck Wheels are available with polyurethane, rubber or solid rubber material for reliable performance. Diamond tread tires offer better traction off-road or in mud and sand. Rib or Sawtooth tread performs well on smooth floors and surfaces. Choose Air-Filled Tires or Flat-Free Tires that provide the same bounce and load handling of an air filled tire, but will never go flat. Available capacities range from 50 lbs. to 850 lbs. Dimensions vary by model.