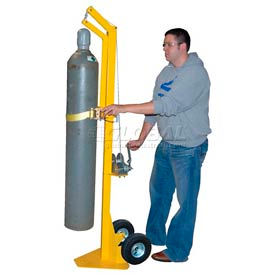 Portable Cylinder Lifters
Portable Cylinder Lifters are for Easy Lifting and Maneuverability of Liquid or Gas Type Cylinders.

Portable Cylinder Lifters are made of solid steel construction for long lasting durability and dependability. Various type units feature crank cable winches or mechanical clutching devices designed for easy lifting and handling of liquid or gas type Cylinders around work area or into vans, trucks or trailers. 200 or 500 lb. load capacity lifters are available with Hard Rubber, Pneumatic, or Polyurethane type wheels for easy mobility and maneuverability. Dimensional sizes vary per model.