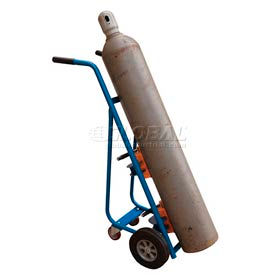 Magnetic Cylinder Hand Truck
Magnetic Cylinder Hand Truck allows for the Quick and Safe Transport of Cylinders.

Magnetic Cylinder Hand Truck features heavy-duty steel construction to offer long-lasting durability. Powerful Magnets hold the Cylinders securely in place, providing added safety in hospitals, warehouses and industrial settings. Magnets replace straps and chains, Preventing Damage to the Cylinders while allowing for quick loading and unloading. Special Tilt-and-Roll design makes moving cylinders simple. Hand Trucks accept standard Cylinders up to 14" in diameter and 56" high. Polyurethane swivel casters and hard rubber wheels facilitate maneuverability. Finished in durable enamel to resist rust, scratches, stains and corrosion.