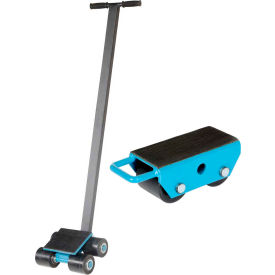 Machinery Skates
Machinery Skates Move Heavy Equipment and Machinery with Ease.

Machinery Skates are available with non-marring Nylon wheels or durable Steel rollers. The top of each Skate has a rubber surface for increased grip. Framing is made of durable steel with easy-carry handle.

Fixed Machinery Dollies are designed to move equipment in straight lines. Non-adjustable and include rigid wheels.

Steerable Dollies include a swivel top plate and pulling bar to allow easy maneuvering around turns and corners.

Adjustable Machinery Skates include Dollies connected with a slider bar to form one larger Dolly. Slider bar allows adjustable overall Dolly width.