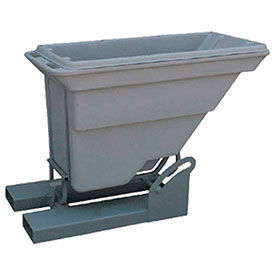 Techstar Self-Dump Hoppers
Self-Dump Hopper Allows Ergonomic Content Disposal For Applications Including Distribution, Receiving, Sanitation And More.

Self-dump hopper is made of polyethylene for long lasting durability and corrosion resistance. Automatic self-dumping feature tilts to empty container and automatically returns upright for next load. Works in conjunction with forklift for convenient transport and elevated dumping. Allows single user operation for convenient and ergonomic functionality. Includes manual release safety latch for operation stability. Weight capacity is 900 lbs. Color finish is Gray. Dimensions are 57"L x 28"W x 41"H.