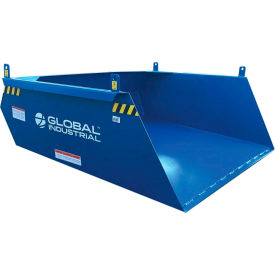 Forklift Front End Loader & Dumper
Forklift Front End Loader & Dumper is a versatile Forklift Attachment that Transforms your Fork Truck into a Handy Scoop and Dumping Hopper.

Forklift Front End Loader & Dumper is made with strong 3/16" thick steel with leak-proof welds. Dumping Hopper is suitable for moving snow, salt, dirt, scrap metal and refuse. Units feature a beveled front edge that helps keep the scoop completely in contact with floor surface or ground. Forklift Hopper includes a dump cable that allows safe dumping operation from seat of the forklift truck. Hopper rolls completely forward to empty contents and returns to locked upright position when set down on the ground. Fork tubes include a safety chain to help secure the Loader to the fork truck. Durable powder coat finish. 1-1/3 cubic yard capacity. Self-dumping Hopper measures 64"W x 63"D x 23"H overall. Fork pockets measure 28"D x 7-1/2"W x 2-1/2"H and are mounted on 24" centers.

NOTE: OSHA requires contacting the manufacturer of your truck for written approval for the use of any fork truck attachment.