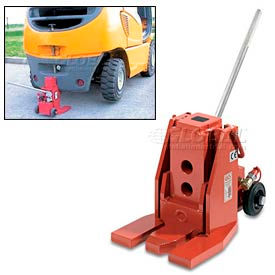 GKS Perfekt® "Forklifter" Forklift Jacks
GKS Perfekt® "Forklifter" Forklift Jacks are specifically developed for Forklift Maintenance and Repair.

GKS Perfekt® "Forklifter" Forklift Jacks feature a robust design that allows forklift trucks, industrial vehicles and textile machinery to be lifted for service. Jacks feature a stable base plate with integral feet for maximum stability. The 4.7"L toe is equipped with gearing in its forward section to counteract any slipping of the load. Low-profile toe features three height adjustments for applications with higher ground clearance, and the top saddle offers a large surface area for greater lifting flexibility. Industrial rated hand activated hydraulic pump with 7,542 psi working pressure has an integral bypass valve for safety. Coupling adapter is included for remote operation of two or more Jacks with a pump. Lowering screw offers precise lowering of the load. Handle rotates 180° to allow operation in tight corners. Forklift Jacks meet ANSI/ASME standards and include wheels for easy portability. Inspection certificate included with each Jack. 3 Year Limited Warranty on the Cast Iron Toe.