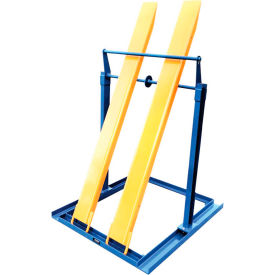 Fork Extension Storage Rack
Fork Extension Storage Rack allows the operator to Install or Remove Fork Extensions Without Leaving the Forklift.

The unique Fork Extension Storage Rack allows for easy fork extension installation or removal without exiting the seat of the forklift. Rack also offers a safe means of storing fork extensions when not in use.

To remove the fork extensions, simply drives into the storage rack with the forks in the raised position, ensuring the tips of the forks are over the elevated bar. Lower the forks until the forks nest into the channel at the base of the rack, and back the forklift truck out of the heel restraints. Reverse the process to install the fork extensions onto the forklift.

Rack is constructed of all-welded steel with a durable powder coat finish for long life. Assembles easily. Minimum fork extension length is 60"; fork extensions are not included.