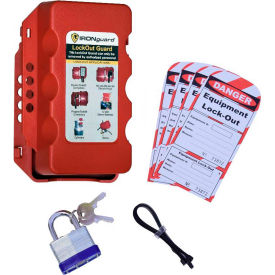 Ideal Warehouse Forklift Lock-Out Guard Kit
Ideal Warehouse Forklift Lock-Out Guard Kit Locks-Out your Forklift Truck until Repairs are Completed.

Ideal Warehouse Forklift Lock-Out Guard Kit is a simple solution promoting employee safety and minimizing workplace injury by preventing the use of unsafe and malfunctioning forklifts, machinery and equipment. It can also be used to lock-out / tag-out forklift battery connectors, propane cylinders, water outlets and gas valves. Each kit comes complete with a Lock-Out Box, (4) Lock-Out Tags, (4) Tie Straps and a Keyed Lock.

OSHA Standard 29 CFR 1910.333 requires employers to protect employees in the workplace from hazardous electrical energy sources on machinery and equipment when service and maintenance is being performed. Additionally, the Canadian Center for Occupational Health & Safety states that Lock-Out is an essential safety procedure that prevents equipment, machines and processes from harming workers. Workers responsible for maintaining, repairing, cleaning and replacing parts on machinery that is not locked out can be seriously injured.