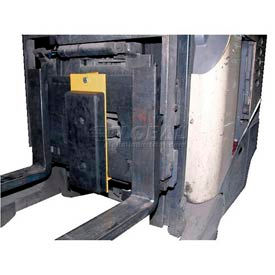 Forklift Carriage Bumper
Bumper is Designed to Reduce Damage to Packaging of Palletized Products.

The fork truck carriage bumper is engineered to provide cushioning protection from many types of load damage. Bumper offers excellent wear properties and vibration deadening without compromising the load capacity. Energy absorbing molded rubber bumper is secured to a steel plate that can be mounted easily to any standard Class II forklift carriage. Overall dimensions = 8"W x 20-1/2"H x 2-1/4"D; Bumper dimensions = 8"W x 17-1/2"H with a 2" projection. Mounting hardware is included.