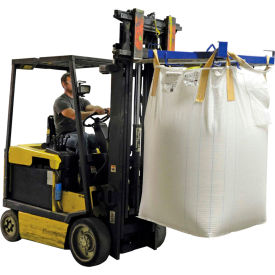 Forklift & Hoist Bulk Bag Lifter
Forklift & Hoist Bulk Bag Lifter is for use with a Forklift Truck or an Overhead Hoist.

The Bulk Bag Lifter eliminates workplace hazards and injuries associated with packing and unpacking bulk bags. This Forklift or Hoist attachment reduces labor costs, injury related claims and increases productivity. The unique design improves existing equipment flexibility and the return on your forklift investment. Lifter features 6-¾" x 3-¼" forklift fork pockets and a 4-¼"L x 4-5/8"W x ¾" thick bail for use with an overhead hoist. Integral 1-½" hook opening bag strap retainers and a liner retainer are standard. Welded steel construction features a durable blue powder coat finish for long life.